As previously mentioned, weather during April vacation was fabulous!
We went to the park almost every day, we even ventured to The Nick as the kids were getting a little bored with the playground behind their school.
Andrew had a great time at The Nick! He played with a group of other kids and was even the leader of the pack! It was amazing to watch him running with all those kids, telling them what they were going to play! A number of times they ran past me screaming "FIRE! FIRE!" (they were playing firefighters). I wondered if it was okay...then I realized that I couldn't care less what they were yelling -
MY SON WAS PLAYING WITH OTHER CHILDREN
! You can't even imagine how that felt!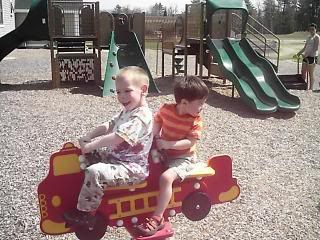 Zachary had less of a good time - mostly because he is getting a little too big to play on his own at a playground. He did test his fears and make some risky climbs. He and I have a similar fear of heights. I never would have been able to do what he did.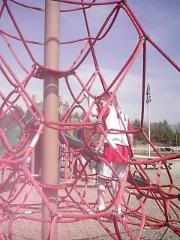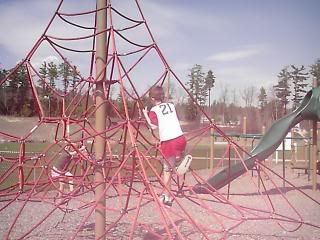 Flying high!
Zach spent a couple of days with my mother and went to a friend's house another day. This left Andrew alone and bored (as Tom spent the entire week working with my father). Luckily, a $.25 yard sale toy kept him happy for quite a while!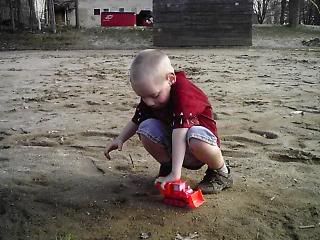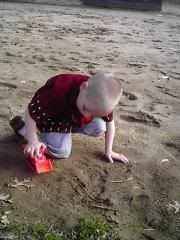 We went to the movies with Sue and my nephew Christian. It was an experience...Andrew doesn't do well with sitting for 90 minutes. What I saw of Nim's Island looked pretty good :) Zachary, Sue and Christian enjoyed it!
The last weekend of vacation was the Webkinz Extravaganza Weekend. Retailers that sell Webkinz were having parties to celebrate their 3rd birthday. We went to the local Hallmark store and partook in the festivities.
Poor Andrew was OVERWHELMED to say the least! It was all too much for him to handle. There were tons of games to play and prizes to win!
In the end, Andrew won a Webkinz ("Wilbur" a pig), and a mousepad. Zachary won a pack of trading cards, a pirate eyepatch, and a figurine. I spent $10.75 on a couple little things for the kids and walked out with all that and a free Webkinz for Zachy (a charcoal cat he named "Coaly").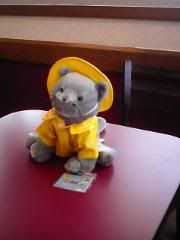 At the end of the week we went fishing (Zach has only been begging me to take him fishing for 4 months). Finally the weather was nice enough (although a bit windy the day we went) and the ice was off the lake. So we went down to my office, had a picnic dinner and took Andrew, Zach and his friend J fishing.
Kirby got the first fish of the season: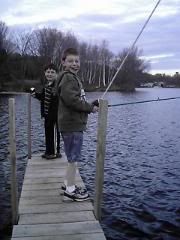 Zach's friend asked me why Andrew had to wear a life vest. A few minutes later he found out. Andrew ventured a bit too close to the water, lost his footing and fell in, face down. Of course, I was right there and he was fine. Although, he did find out that even though we have had some beautiful weather (that even felt beach like) the water was not even close to warm enough for swimming!