After I picked the boys up from school we decided to go for a walk to Dunkin's. They are not use to the walk and both got so cranky on the way home. It really isn't too far but I think that they have forgotten what is expected of them on a walk (hold Mommy's hand, look both ways, no screaming curse words while we are walking down the street).
We spotted a few signs of spring and Zachary saw the best: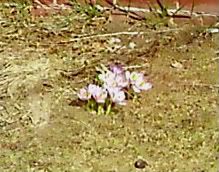 We saw quite a few flowers just coming up but these are the only ones in bloom! We almost missed them but Zachary has good eyes (and the same attention span as a puppy - this is a good use for it, however).
Just to show you the contrast in snow meltage and the rate of blooming, these pictures are in front of our house while the flower picture is right across the street.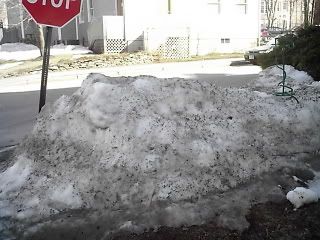 Somewhere under that snow are flowers waiting to blossom. I think we might have snowbanks until July...