One day late, but nonetheless, Happy Earth Day!
We are not known for being "green". Yes, we recycle (we even use Freecycle - check it out at www.freecycle.org). I walk as often as I can through town rather than driving. We never throw anything away that someone else can use. We either donate, freecycle or drop it at the "swap shop" (a building at our "dump" that you can drop off things in good condition to be used again - people take what they want). We use the new CFL light bulbs in most of our lights. But, I wouldn't call us a green family.
Lastly, every year we pick up trash. Last year Zachary and I did an entire street and collected 11 trash bags full! The community clean up day has been postponed for another month due to snow but since yesterday was Earth Day we decided we should get out there and clean up anyway.
Somebody recently told me that they don't believe in global warming. I explained that Earth Day isn't about global warming. It is about respecting the planet that we were given to live on and respecting the resources that we are taking for granted. Who wants to live in the trash and polluted air? Global warming or not - it's just the right thing to do.
We have some great walking paths here in Wolfeboro. They run by all 3 of the major lakes here in town (Winnipesaukee, Wentworth and Crescent). They were once railroad tracks that people now use to walk, run and bike. They are beautiful and the boys and I love them.
Yesterday we decided to clean up a section of that path. Andrew being with us can make it hard to get out on a street (he's a runner with little understanding of safety). Zachary really thought that we needed to do more than that (in total it is probably about 1/4 mile). I had to explain that we would do more some other time.
Zachary was not impressed: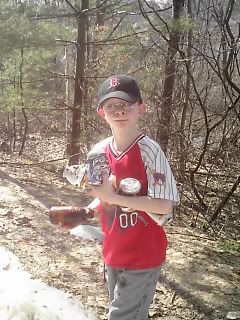 He's on a mission: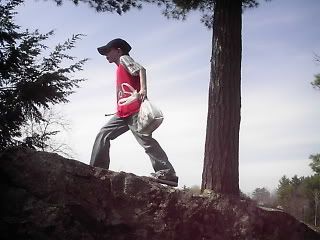 Andrew's getting distracted:
Zach's getting every last piece:
We already put two bags in the trash, this one is too big to fit:
The view of my office from across Back Bay:
A sign that I thought was hysterically obvious: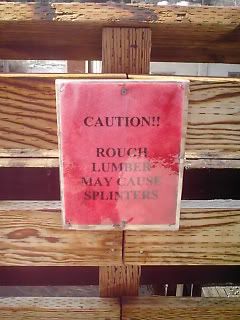 So, we may not be the greenest family on the planet, but we do our part.