Camp. What can I say except that it was WONDERFUL! I shared some pictures in an earlier post, those were some of the best. I'm not sure how to write about all the great things that happened so I am just going to highlight/list them:
Left home at 10pm on Wed.

Hit a skunk on the ride up - threw my back out in the process

Arrived at camp at 4am after taking one wrong turn and stopping for a few bathroom breaks

Yard at camp was not mowed - some places were taller than A
Found a lone pair of underwear in Tom's bed...women's...

Biggest thing anyone hooked all week was me...OUCH! Fish were small but they put up a fight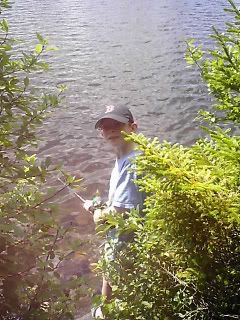 A broke my glasses the second day there...thankfully the general store had super glue

A used the outhouse (although there is indoor plumbing as well)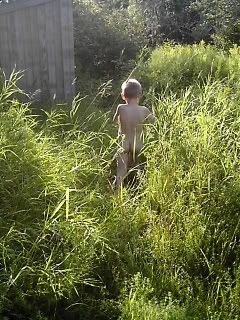 Saw a beautiful sunset at the lake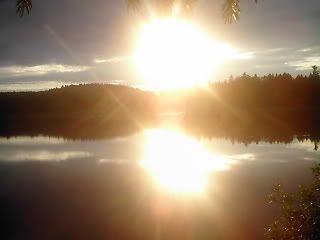 My camera battery died the second day...glad Kirby brought his as well

Hiked in the woods a bit - NEVER left the path - we learned our lessons last year

Founds TONS of raspberries and blackberries and even a few blueberries.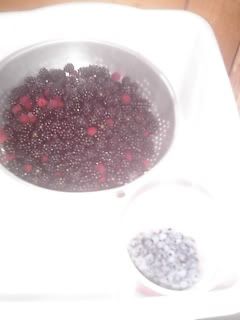 Picked enough to make pancakes with cool whip and berries for breakfast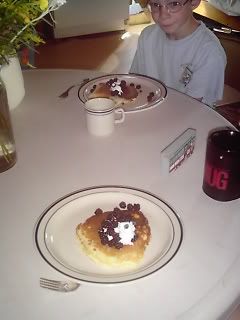 Saw both moose and wild canine tracks - though never saw the real thing
Z learned to use a slingshot AND a hand saw

Kirby to remove a rather large thorn/splinter from my foot

Boys built a "drum set" out of logs and sticks and performed "shows" every night
Roast hot dogs and

marshmallows

by the fire every night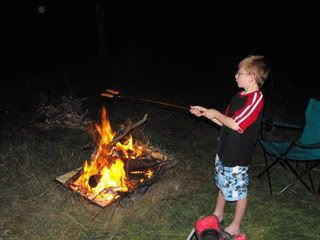 Heard coyotes and loons at night

The boys burned their sneakers in the fire

Z and Tom played tons of

wiffle

ball and had a great time doing it - never seen them have so much fun together without arguing
Saw a woman driving a motorcycle with her man on the back on the way home...HYSTERICAL

Learned that Kirby and I can be friends

Arrived home at 7pm on Tuesday....wanting to be back at camp
Did I mention that Kirby and I learned that we can be friends? More on that in another post...