So much to say, so little time before the chillens start climbing me, asking what's for dinner...
As I mentioned, Saturday was Andrew's 6th birthday! We had great plans with my father for the day. Since it was the day before Easter we decided to have an Easter dinner with Dad and the family, do an Easter Egg Hunt and celebrate some birthdays (Monica's is today).
Earlier in the day Alex and Andrea had called to wish Andrew a happy birthday. His response was "what did you get me". Alex told him that he would have to wait till we got to Grampie's to find out...I reminded Alex that he was giving Andrew his gift the next day at Mom's. Rather than make the little prince wait for his gift, they ran out and got him another one (a Lego set of Gordon from Thomas the Tank Engine). It was, of course, his very favorite gift.
Monica got him a couple of pairs of Thomas PJs that we were actually able to get him to sleep in Saturday night! Clothes at night usually "bug" him and they end up getting taken off before he falls asleep.
He also got his very first Webkinz from Mom and Dad. "Elly" the Elephant is a VERY big hit! HE (yes, Elly is a boy) has slept with Andrew nearly every night since.
Andrew is also in LOVE with Herbie, The Love Bug so Grampie and Nana Sue decided to set up the big screen and show a Herbie movie too. At the end of the evening we watched Herbie Goes to Monte Carlo. It wasn't as big of a hit as we were hoping.
Of course, I forgot my camera at home. Thankfully, Andrea took some GREAT pictures of her cake!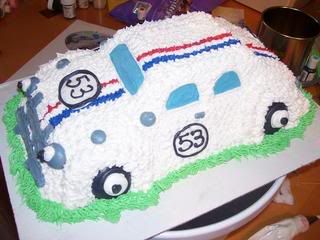 The cake tasted as good as it looks! She did such a great job and Andrew's eyes about popped out of his head when he saw it! The cutest thing though was when I went to cut and serve it. Every time the knife got close to Herbie Andrew cried, "NO! You will hurt him!". I couldn't bear to make him cry, so Alex did instead.
It ended up being a rather late night at Dad's because the Easter Bunny decided to ship some of the presents to our house from Amazon and they didn't come in time. So, Dad had to make a run to WalMart to replace some of the goodies for the "baskets".
Andrew had a meltdown (or two, or three) towards the end of the night at Dad's and by the time Kirby showed up, I was MORE then ready to go!!
Thanny (my youngest nephew who has started to learn how to assert himself) thought it would be a great opportunity to begin his Ultimate Fighting career and Andrew was his first opponent...one egg and a little blood later they were separated for the night. I would have expected Andrew to stick up for himself but, honestly, I am glad he didn't. Poor Than would have been beaten down!
I'm hoping to get some more pictures from the day and I will add them in at a later date.
Sunday, of course, was Easter! Even though the Easter Bunny poorly planned shipping, the baskets were full to the brim!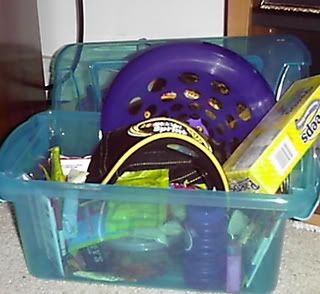 Tom's "Basket"
Zach's "Basket"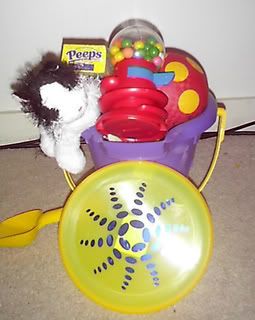 Andrew's "Basket"
Kirby went WAY overboard replacing the Easter Bunny's gifts!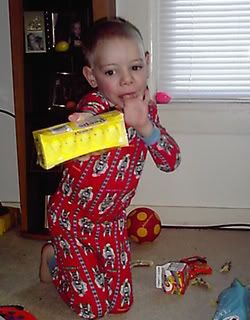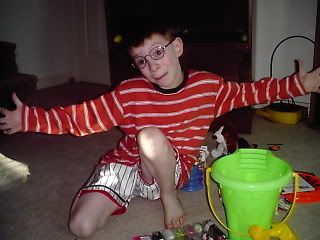 Tell me this isn't the darned cutest picture - you can't and you know it!
And, of course, there was another Easter Egg Hunt.
Soon after we went to my mother's for the day. We had lunch, ANOTHER Easter Egg Hunt, MORE baskets and MORE presents for Andrew. Again, I forgot my camera...sonuvabiscut!
My friend Josiah came to visit with me while the boys played poker. I haven't seen Josiah since Thanksgiving so that was really nice. Another long day, but the kids had a great time. I, on the other hand, was ABSOLUTELY exhausted!
Andrew's big present was a Smart Cycle.
I am not big on "some assembly required" and usually leave that up to Kirby. However, I attempted this one on my own. Couldn't find a screwdriver...and once I got everything together (minus the screws) I realized that it needs 4 D batteries! Oh, I cursed, cursed to high heaven. Thankfully Andrew was so awful about going to bed that night he wasn't allowed to ride it the next morning.
He loves it! I am so excited to have a way for him to get some energy out during these cold days (though, of course, it has started warming up just this week) without making too much noise in the house.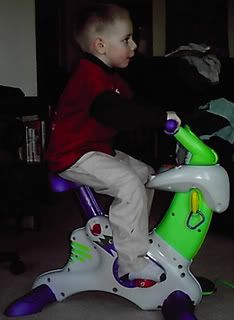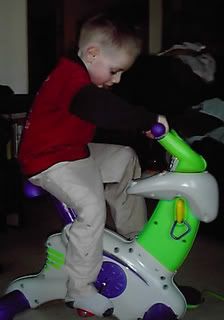 Zachary got a Mega Blox Spider Man figure in his basket. Again, I am not big on assembly items and Mega Blox are not as good (instruction wise) as Legos...many people had attempted to help him at Grum's house to no avail. So, I was stuck helping him put it together. It took us quite a while but, finally, the finished product: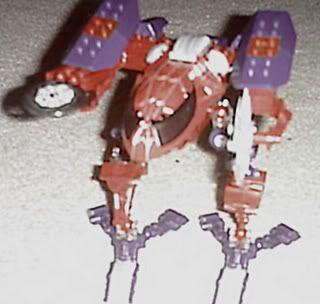 Monday we took Zach's new kite for a test drive. Not much luck but we did get some exercise!
Yesterday I got a phone call from the school nurse. This is how Andrew has spent the last two days:
He's had a high fever, a cough and some puking. Poor little man.
I am SO ready for spring. The past two days have been beautiful and I am keeping the windows open as long as we can stand it.
I haven't taken up serious drinking yet, but if we get sick another time this season I am really going to consider it :)