What a gorgeous, long weekend! The weather was near perfect every day. And we took full - well close to full - advantage of it.
Friday was the boy's Memorial Day Presentation at school. Since it was in the morning, Andrew was not going to participate (he is in the afternoon kindergarten session). He and I agreed that he would come and sit with me and sing all the songs. Unfortunately, he had a total "autistic moment" about 10 minutes in. He wanted a flag that was being used as a decoration, I said no and all hell broke loose. He cried so hard that he hyperventilated, he hit me, he screamed...we left. It was mortifying! Thankfully, Zach wasn't aware that I had to leave...he thinks I saw the whole thing (and I am not about to admit otherwise).
Saturday was quiet. Well, as quiet as it can be when you are fighting with an 8 year old to clean his room. Truthfully, it took all day. He started at 10am and by 7pm he was FINALLY done. It was a disaster and I was fed up. It's done, for now...
Sunday I had an Embracing Autism NH (EANH) meeting in the morning As soon as I got back the boys were ready to go. Go where? Where else? Fishing, of course!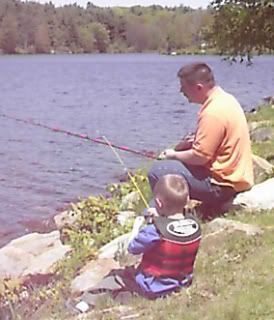 One of Andrew's friends from school happened to be walking by and he and his family decided to join us. T and F had never been fishing before and Zachary had a great time teaching them to cast and put the worm on the hook.
We did catch much other than a sunburn. I forgot the sunscreen and a few hours of sitting on the water in the sun isn't a great idea for me. Before I left my EANH Tracy told me to enjoy my weekend and to "get some sun". I'm not sure that was her idea. Thankfully the boys got away with very little redness. Redheads with fair skin should ALWAYS wear sunscreen - unfortunately, Mom tends to forget.
Sunday evening was the first Movie in the Barn at Dad's house of the season.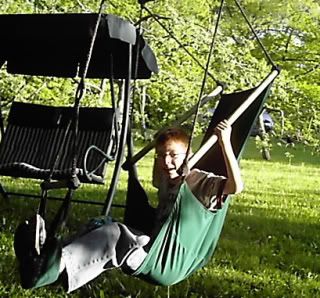 After Andrew broke the birdbath...
We watched the short video Sue made about her time in Iraq (WONDERFUL) followed by Ratatouille.
We made it through the movie with few incidences. Andrew even sat for most of it. Home at 11pm...exhausted.
The Moving Wall (www.themovingwall.org) has been in Ossipee all weekend and Kirby really wanted to get out and see it. First thing Sunday we packed a lunch and made our way over.
He and I have seen The Moving Wall together once before and got to see the real thing once as well. Every time we see it we are incredibly moved.
I was happy to have the boys with us but worried about how they were going to behave. Again, few incidences...thank you god!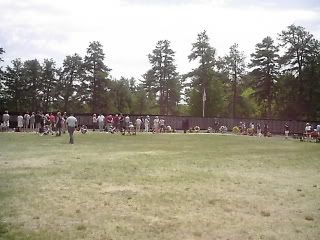 The boys even got the ride in a "real Army truck"! Andrew was so excited!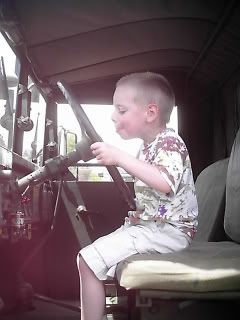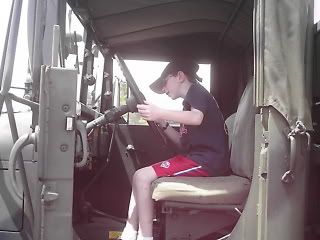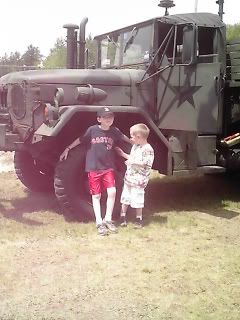 I am glad that we made it over there and proud of how well my kids handled themselves. I hate having to talk to my kids about those things - the violence and reality of the world. I want them to believe that the world is full of love and peace...I worry that I will taint their views. Of course, my worry doesn't stop me. After all, it is reality.
After visiting the wall we traveled down to New Durham to The Powder Mill Fish Hatchery. The hatchery is run by NH Fish and Game. We had taken the boys there once before but they were so young they didn't even remember it.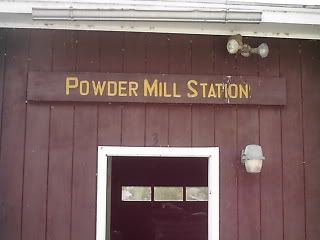 You'd think we had brought them to Six Flags for a weekend! They had SUCH a great time! It just reinforces the fact that you don't have to spend money to have fun with your kids. Seriously, we spent $1 on fish food and they had over an hour of enjoyment!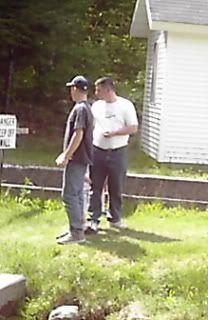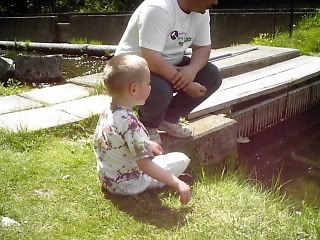 Check out the size of those fish!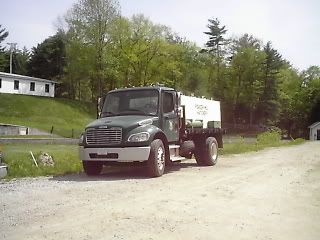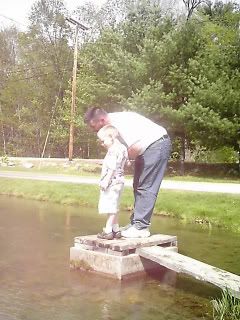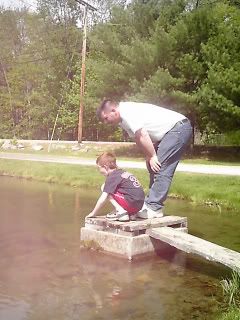 We ended the day by taking the kids fishing at the Salmon Falls River in Rochester.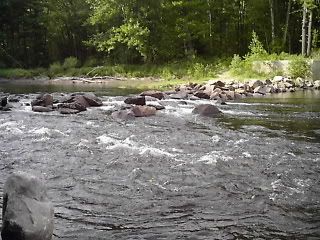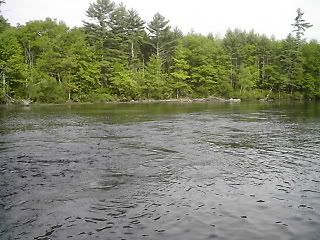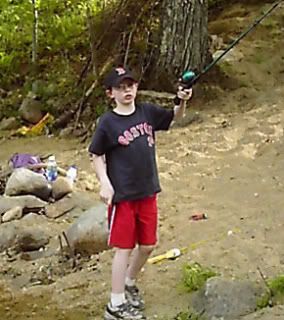 The boys aren't use to river fishing and it was harder than I remembered. We lost 3 lines, didn't catch a thing and Mom ended up looking like this:
I totally fell in. Kirby took this picture AFTER he took the camera out of my pocket (soaking wet), AFTER he asked me if I was okay but not BEFORE he tried to get the camera to take a picture of me lying in the water trying like hell to get out.
I had been fishing out of the water the whole time (well after I climbed into the water to try and get my line out). It wasn't all that cold, I was enjoying dipping my feet...then I lost my footing. Sonuvabiscuit!!!
I smelled like a dead fish the whole way back to Wolfeboro in soaking wet jeans with two screaming, whining kids in the back...