I realized that I haven't blogged about Mother's Day (aside from my time spent at the auction). Ahhh, Mother's Day....the day that is suppose to be for Mother's but, typically, ends up being all about those mother's mothers (does that make sense?).
This Mother's Day was wonderful and, mostly, because I chose to do what I wanted to do.
Kirby let me sleep in (since I had been at the auction until 2am) and he and the boys woke me with breakfast in bed and brought me my gifts.
Kirby also bought me a bottle of smelly stuff that you put reeds into. It is suppose to release a beautiful smell in the air. Of course, that has already been put WAY out of the kids reach and I refuse to draw any attention to it or it will promptly be dumped on the carpet.
After breakfast we took the boys fishing for a couple hours. Kirby had to stop and get a new pole because we, somehow, ended up a pole short. If I remember correctly, Andrew broke his pole last year.
He showed up at the lake with this: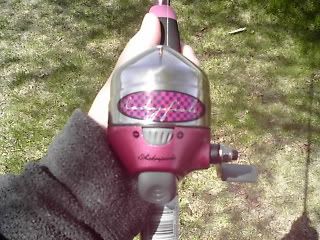 I said, "You bought a PINK fishing pole"..."it's the breast cancer awareness pole" he says. Well, look closely at the the last picture...it says "ladyfish"...hehehe. Little does he know that this is MY new pole! I have adopted it.
Tom got the only fish of the day. Everyone had fun - the walking trails were CRAZY busy! We saw horses and dogs and so many people. It was such a beautiful day. Andrew introduced himself to "Pepper" the dalmatian mix that was squatting a few feet from us...his owner yelled for Andrew to wait a minute but, you know Andrew, waiting is NEVER an option. Yuck!
After fishing we stopped in Milton to drop a laptop with Keni-Lynn (for a mother and son that we have connected with through Embracing Autism). Unfortunately she wasn't there but I did get to see her little man Eddie (and her big man Ed and their dogs - including the cutest little dachshund named Lex). What a sweetie pie little Eddie is!
We went to my mother's for an hour before I went to the auction. We had chinese. The boys tried to fly kites. We played a game. My mother was unhappy we had so little time there...I was about an hour late...Part of me felt badly and part of me loved my day. I love my family, I love to spend time with them but I love to spend time with my kids too and we don't get a lot of that. It is my mother's day too.
And lastly I took the kids for a tour of the auction set. Andrew just LOVED it! He was so stinking cute! "IT'S THE QUICKIE BOARD!!!" Oh man, he just cracked everyone up!
I think this was the best Mother's Day yet. We didn't rush, we enjoyed ourselves. Last Mother's Day I got pulled over for doing 70+ in a 55. I explained to the officer that if he knew my mother he would understand why I was speeding. He chuckled, nodded his head and let me off without even a written warning. Of course, it could have been Andrew screaming "you're not going to arrest me are you" that scared him off...