Today was a perfect sledding day! It was warm and sunny, Zachary had a friend coming over so we decided to head out The Nick and take the boys sledding.
I worked this morning until 11:30. After my last client, as I was changing out of my work clothes, she came back in and asked if I could help her...she had gotten stuck. My office had a large U driveway. This time of year we only plow half of it. She didn't realize that and, somehow, got her H3 stuck. After a LOT of shoveling, some pushing and very little luck, two young men drove by and offered a "pull". Thankfully she got out quickly but it put me behind in our day.
We picked up Zachy's friend and finally got to The Nick at 1:30. The Nick is the local rec park. The fields are set in a valley of sorts. On the outer edge of the park are some HUGE hills. The only downfall is that it is a heck of a hike in this time of year, falling through the few feet of snow every step. The kids were also pretty worn out from climbing the hill to the top.
Some pictures: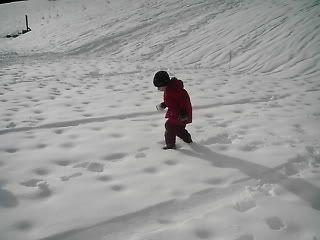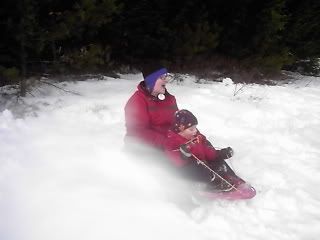 Another family decided it was the perfect day to sled too and joined us at the top of the hill. In no time we had a great path heading down - the kids were flying! Zach even got a little sick to his stomach he was going so fast.
At 3:30, two hours and, at least one freezing butt later, it was time to head out. Every single one of us was scraped up because the snow was a little crusty, every one was freezing and every one was ready for hot cocoa!
One thing off our "things to do" list - though I hope it isn't the last time we go this winter!