Another snow day here in the heart of downtown Wolfeboro. We have so much snow that there is no longer any place to put it. Yesterday we woke to nearly a foot and today we are expected to get at least that. We officially hit the snowiest December since they started recording snow fall. NH has gotten over 43 inches - we broke a record that was nearly 150 years old!
The boys (and I) are just starting to feel the effects of this winter break...one more day. They are grouchy and out of their routine, as am I.
But this blog is devoted to our Christmas! What a great day!
As I have previously mentioned, Kirby and I are both a bit Scroogy. We procrastinate with the decorating and the shopping, we wrap presents the night before and we both HATE spending the amount of money that we do each year.
However, this year was a bit of an exception. I had done a bit of shopping before our dreaded night out (we do ALL the shopping in one evening) and our wrapping (and cleaning up) was done by 12:30am (Christmas day).
We have a few family traditions every year. Aside from the traditions outside the house, every Christmas Eve we read The Night Before Christmas and The Polar Express. This year Zachary decided he was going to read The Night Before Christmas (if you haven't noticed before, it can be a hard book to read - not so much the words, but the language). He did a great job! I read them the Polar Express, we put out cookies and carrots (along with a note for Santa) and then it was bedtime (8pm).
Of course, with two incredibly excited boys, bedtime was an adventure to say the least. At 10pm, Zachary's 100th time from his room, he informed me "MOMMY, THIS IS SERIOUS"..."WHAT, Zachary"...."I just saw Rudolph's nose AND I heard sleigh bells"..."Cool Zachy, sounds like you better hurry up and fall asleep then, you know Santa skips past houses where the kids are awake"...."Well, you better go to bed too, Mommy"..."ZACHARY, BED".
Finally, around 10:30pm or so, both boys asleep, Daddy and I got to work. We wrapped and wrapped and wrapped and watched the marathon of "A Christmas Story" through the whole thing (I LOVE that movie). We were wrapped, cleaned up and in bed by 1am.
The results: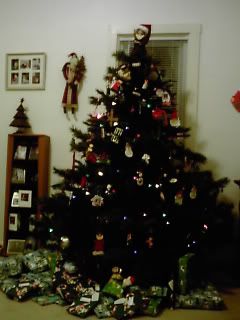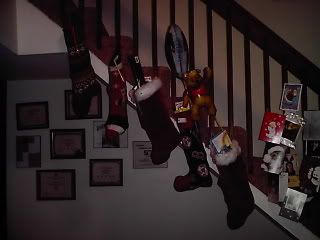 The boys were told that they were not allowed out of bed until 8am and that anyone caught sneaking would be in SERIOUS trouble. Of course, I woke up at 7ish to Zachary tiptoeing back INTO his room...he claims he was going potty. At 7:59 I told him he could wake Andrew up.
"Andrew, ANDREW"..."IS SANTA HERE????"...."Noooo, it's morning"..."PRESENTS!!!!!!" Andrew was SO excited that he could barely breath. He was SHAKING from head to toe! It was priceless! Of course, Kirby took his sweet time getting dressed to go downstairs....
By 8:05am everyone was in the living room ready to start opening presents. Zachary got the first gift of Christmas. And since he threw such a fit about it, we made sure it was a good one...a package of underwear :) He was less than impressed.
For the first 20 minutes Andrew cried with every present he opened. ALL he wanted for Christmas was a Tony Stewart car (those who don't follow, Tony Stewart is a NASCAR racer who is sponsored by Home Depot). With every present we heard "THIS IS NOT WHAT I WANTED". Finally, we caved and gave him the $4 gift...he was PSYCHED! Next year, I swear, that is all he is going to get...
Less than 30 minutes later, the living room completely trashed, every single present and all 5 stockings were opened.
A few pictures from the event -
to forewarn you, though, Andrew is not a PJ wearer (they "bother" him) - you will have to excuse the near nudity
: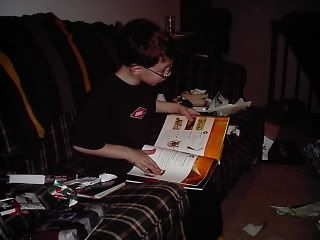 Zachary with the book that Santa got late notice on...he was incredibly lucky that Santa was able to find a copy
5 minutes
before the store closed.
Andrew with Tony Stewart...seriously
$4 WITH SHIPPING
!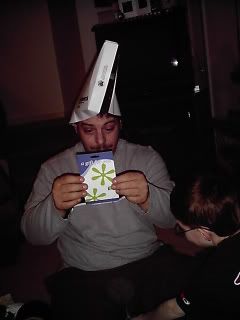 Daddy with a gift card that somehow got put in the trash...there was an all out search for about an hour!
Zachary with his two favorite toys - Webkinz - they are
all the rage
, you know! Thanks, especially, to Xander for the reindeer!
We spent the rest of Christmas day lounging around, watching a few of the movies the kids got (Santa brought them some of the ORIGINAL "Herbie the Lovebug" movies) and watching "A Christmas Story" again and again. Oh, and, of course, figuring out those Webkinz...along with every other kid in the United States (their sites were down for a while).
I worked most of the day on Wednesday and that evening we went down to my mother's to celebrate. The kids, once again, were overloaded with toys, but incredibly happy (no pictures, waiting for Mom to send some).
The kids say that they had a great Christmas, they all got "everything" they wanted (aside from Zach who requested an IPod Nano which I consider to be a pretty extreme gift for a 7 year old). They have spent the week playing with their new toys, discovering old ones and enjoying our time with family.
I hope you all had a wonderful holiday as well!
Also, a photo of Tom making his handprint for Alex's gift: